The new Ellie Hatcher novel may be called NEVER TELL, but I'm asking you to TELL … a friend, that is.
If you buy two signed copies of NEVER TELL – one for you, one for a friend – you get your choice of free, super cool book loot!
Here are the details: The first two indie stores on the NEVER TELL tour have kindly agreed to handle these shenanigans.  You can request any special inscription ("Dear Peggy's Mom, Thanks for that shiv when we were in the joint.  Happy Birthday. Love, Alafair"), and they also do GLOBAL shipping.  Just ask.
Order two signed copies from Houston's MURDER BY THE BOOK, and you'll receive a free "Killer Summer 2012" tee-shirt.
Choose the t-shirt package here.
Or you can order two signed copies from Phoenix's POISONED PEN, and you'll receive a free "Real Men Read Women" mousepad.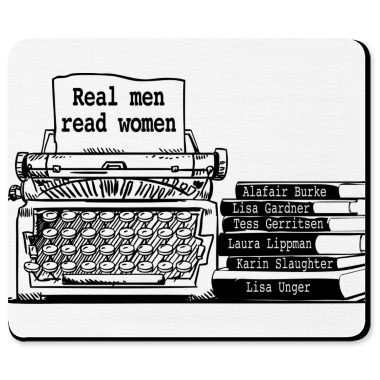 Choose the mousepad package here.
If you have a friend who would enjoy getting to know Ellie Hatcher, I hope you'll consider getting them a signed copy of NEVER TELL as an introduction, and this is a small way for me to thank you for the support.  (The loot normally sells for 14 or 25 dollars.)  Go team!
Now, what about those of you who will see me at another store on the tour?  I will bring mousepads with me, and will be able to give those away as a Tell a Friend gift on the road if you decide to buy two copies from any store on tour.
What about e-copies, online retailers, and other bookstores?  I'm just a one-gal shop so, to give away book loot, I need someone to keep track of the orders and handle the shipping, or I'd never get another book finished.  I'll take and appreciate your love wherever it comes, but the book loot will only be available on tour and with mail orders from these two stores.  Thanks for understanding!
And no matter where and how many copies you pre-order, don't forget to fill out this pre-order form to be entered in the Basket Full of Burke Raffle.  Three readers will win signed copies of all eight of my novels.