Yep, there was more Black Friday nonsense this year as Americans lined up outside of stores to crawl, scratch, and, in one case, pepper-spray their way to the best cheapest holiday gifts around.
It's enough to make a gal say Bah Hum Bug.
But as you may know by now, I avoid the crowds and take to the internet for my holiday shopping.  I thought it would be fun this year to ponder potential purchases (alliteration!) for Ellie Hatcher, Samantha Kincaid, and their respective crews.
| | |
| --- | --- |
| The Ellie Hatcher Series | The Samantha Kincaid Series |
| To Jess, from your sister Ellie (not that this Brooklyn Blanket Chest is a hint that you should move your butt off my sofa and into Williamburg or anything.  No, not at all):Brooklyn Blanket Chest | To Chuck, from Samantha (with a strong hope that you will cook more often, and because I went to the mall at the very last minute and wound up with a sucky present.  Sorry.):Baby Carlos Apron |
| To Hatcher, from Rogan (Just my luck to draw your name in the squad's Secret Santa exchange. Try not to slop that nasty stuff you call food on this fine tee shirt.):Nutella Tee Shirt | To Samantha, Love Vinnie (Because I don't really understand the point of clothing but think everything should involve me.  And because I love you, Mommy.  Now feed me.  Snort.) |
| To Ellie, from your loving brother Jess, because you're a little "psycho" but a lot of fun:Ducky Shower Curtain | To Vinnie, Love Chuck (Look, little man, I told you we'd be on like Donkey Kong if you wizzed on my Van Halen shirt) : |
In my wildest dreams, I'd like to buy two of these cupcake cars for Ellie and Sam, just to see who would win in a race.  Hey, an author can dream.
More realistically, you might know someone who needs "Real Men Read Women" gear (31 different tee shirt colors, yo!).  Or how about "I Like Boys Who Read Books By Girls"?  All profits from this campaign benefit First Book, a non-profit dedicated to youth literacy.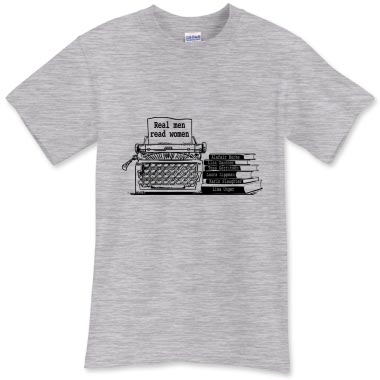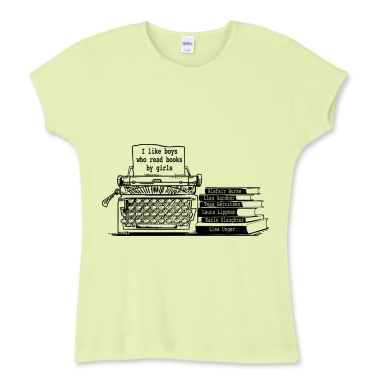 And speaking of literacy, book stores need customer support these days, and just about anyone worth knowing loves to read.  Books also have tidy little corners, so they're much easier to wrap than, say, a cat:
Should you happen to need specific title suggestions, I heard that LONG GONE and 212 (in paperback) aren't bad.
I'll check in later for a proper holiday greeting.  For now, try not to get bloodied or bruised at the mall.