I hope you are enjoying a wonderful holiday season.  I also hope you had a wonderful 2011, and I wanted to thank you for helping to make my year so special.
This was the year when I published my first standalone thriller, LONG GONE.
With LONG GONE, my work earned its first appearances on the Today Show ("the one book you can't put down,") NBC ("a page turner from a major talent," courtesy of Harlan Coben), and the NY Times Art Sectio
n ("The strands are many, the plot stays brisk").
This was also the first year when my work appeared in trade paperback, or was read by more readers as e-books than in hardback.  It's a whole new world out there.  (And doesn't 212 look all pretty and schnazzy with this trade paperback cover?)
2011 was also the year we launched the first (and hopefully annual) Duffer Awards.  We joked that Duffer had gone full-on Hollywood as he handed out statues in his own image.
If you missed the 2011 Duffer Awards, you can view the full list here.  Trust me.  It's worth the click.  It's worth a hundred and ten times the click.
In 2011, I also got to know a whole bunch of you better, thanks to Facebook and Twitter.
I'm looking forward to 2012, when the next Ellie Hatcher novel, called NEVER TELL, will be out in June.
In short, it has been a wonderful year, and I know that spectacular readers like you make it all happen.  I never know how to thank you, but Duffer volunteered for this utterly ridiculous holiday portrait.  I hope it makes you smile.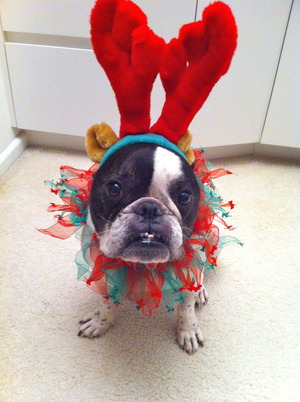 Happy Holidays!