People have their days.
The emphasis in that sentence is fully intentional, because it would mean something quite different to say, People have their days.  The latter is true, of course.  We all have good days.  Bad days.  Days when we're one tic away from the arrival of the nice men with butterfly nets.
But today, I mean we all have our days.  One of my sisters, for example, is known as the Christmas Queen.  She's the one who has a Santa sleigh on her roof, stockings for her cats, and elegantly wrapped presents spilling from beneath multiple trees, each decorated in a different style.
My literary agent's wife has claimed New Year's as their day.  Black tie required.  The best champagne.  The perfect playlist for an all-night dance party.
Hopefully we all have a friend who has claimed Super Bowl Sunday as his or her day.  You know the type.  Face paint.  Cakes shaped like footballs.  Twenty-layer dips filled with forty kinds of fat.
Well, traditionally, Halloween was my day.  Pumpkin carving.  Ghosts on the porch.  Full-size candy bars for the kiddies.  Home made costumes.  (Yep, I've got mad seamstressing skills, y'all.)
But, somehow, over time, I lost my day.  What was once a perfect marriage now resembles more a long-distance relationship.
In hindsight, the problems date all the way back to 1996, when a certain colleague at the District Attorney's Office beat me to the punch on a Halloween party.  Externally, I was a good sport with a quick RSVP in the affirmative.  I stitched up a kick-arse Snow White costume.  I brought vodka. No harm in humoring the kid, I figured.  The party would be a fail.  Halloween would soon be mine again.
But that's not what happened.  The party wasn't a fail.  Every square inch decorated.  No entry without a costume.  There was even a mad scientist in the basement with an "electric chair" and kamakaze shots in a gas can.  As far as the office was concerned, Halloween officially belonged to someone else, and I became the go-to girl for Oscar Night.
But although Halloween had adopted a mistress, I was still the wife.  Costumes.  Pumpkins.  Candy.  Ghosts on porch.  Check, times four.
Then came the move to New York City.  No more porch for ghosts and pumpkins.  No children to yell, "Trick or treat, smell my feet."  Plenty of costumes but far too many of the slutty pumpkin, skanky skeleton, and naked nurse variety.  Not to mention, the partying starts about three hours after I've gone to sleep!
But, six years ago, just when I thought October 31 had quit me, Duffer came to live with us on Halloween.  They say that kids can't save a marriage, but Duffer has kept Halloween in my life.  Halloween may no longer be my day, but it is Duffer's day.
Over the years, Duffer has been Batman: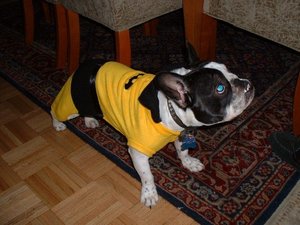 A baby: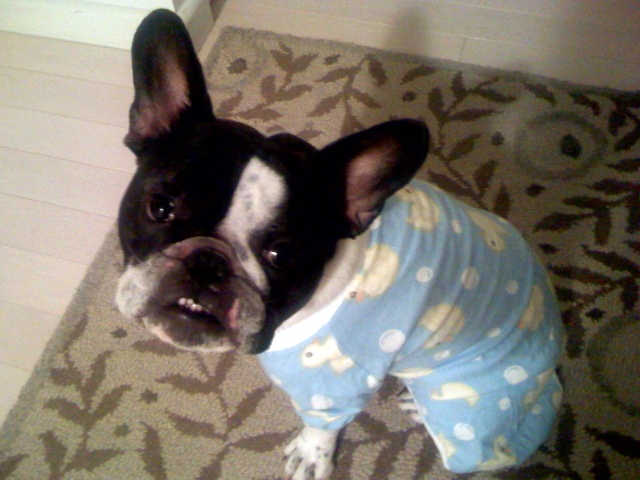 A ladybug: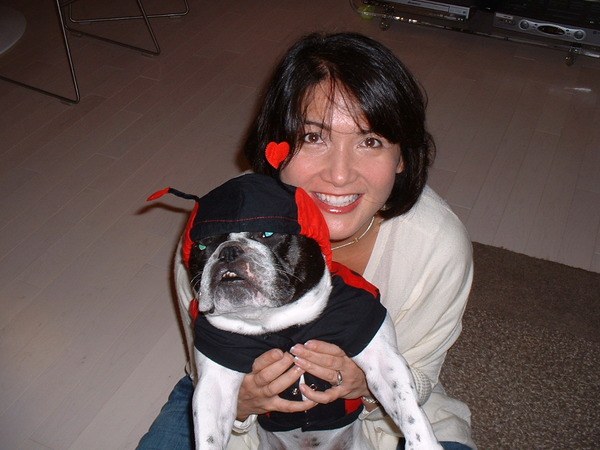 A police officer: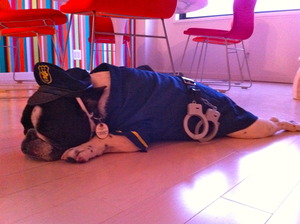 This year, I put out a call to the online kitchen cabinet on Facebook and Twitter for costume suggestions.  Reader Jennifer Irvin nailed it.
You might recall this year's Duffer Awards.  We joked that Duffer had gone full-on Hollywood as he handed out statues in his own image, popping painkillers like candy for a "back problem."
It only seems fitting, then, that this year's costume reflects Duffer's newfound celebrity.
The Hef-Duff: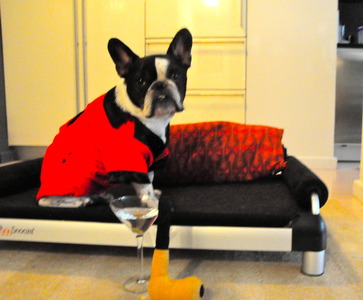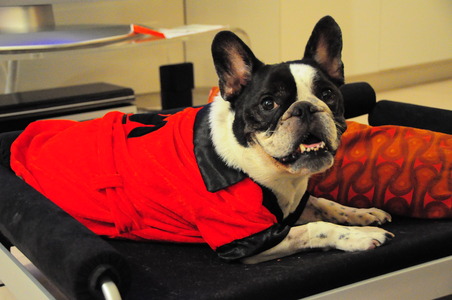 Happy Halloween from me and the Duffer.  Wear a costume.  Eat candy.  Be nice to the kiddies and teach them how to engage in mischief.
And, oh yeah, if you haven't already done so, read LONG GONE and 212 (out in paperback).  They just might keep you up at night.
Best,
Alafair
P.S.  If you missed the 2011 Duffer Awards, see the full list here.