My first stand-alone novel, LONG GONE, will be out on June 21, so place your orders before hordes of rioting readers gather outside your favorite bookstore.  For every copy of LONG GONE that you pre-order before midnight on June 19, I will send you a mystery gift.  And I know you like a mystery.
CLUE: THE MYSTERY GIFT IS AWESOME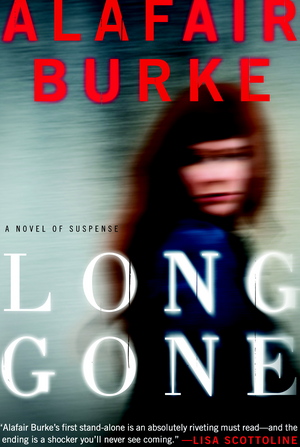 This offer is good for both paper and e-book formats.  Either
forward your proof of purchase to offer@alafairburke.com, OR
fill out a pre-order offer form, whichever is easier.
What is the gift, you ask?  Like all good mysteries, this one comes with clues.
1.  It consists of thirteen parts that can be assembled in less than three seconds.
2.  You put its parts together with your fingers, but you will not want to hold it.
3.  What force and strength cannot get through, this, with little effort, can do.
4.  It is not a car or an iPad. It is something little old me can actually give everyone who buys a book.  It's also my way to thank you once again for supporting me.  Without you guys, I'd be a sad, strange woman with voices in her head.
You can find many of your favorite booksellers here and here.  For signed copies, contact stores listed here.
ADVANCE PRAISE FOR LONG GONE



"I loved this book." —Michael Connelly
"Long Gone is a tremendous novel, and Alafair Burke is one of the finest young crime writers working today." —Dennis Lehane
"Alafair Burke's first standalone is an absolutely riveting must read—and the ending is a shocker you'll never see coming." —Lisa Scottoline
"A red-hot firecracker of a thriller. If you already love Alafair Burke's novels, buckle up for her best book ever." —Lisa Unger
"Highly addictive. The ending will leave you breathless." —Karin Slaughter
"Very smart. The dialogue crackles, the plot is intriguing, and the pacing is perfect." —Nelson DeMille