Can you ever love the holidays the way you loved them as a child?  When you're a kid, the holiday season just… happens.  You don't schedule vacation.  School just stops.  You don't have to buy a tree or haul decorations out from storage.  You don't mail Christmas cards or plan the menu.  Stuff just magically appears.  Like Santa.
But for grown-ups, Christmas could simply be a date on a calendar.  It would be so easy — tempting even — to just skip Christmas.
But I refuse.  Maybe it's the memories of Christmas as a child, but I still need my holiday.  I wish little elves (or maybe some less creepy type of minions) would show up magically under cover of night and make Christmas happen, but it takes effort.  And so many of the efforts we make during the holiday season come from tradition.
I thought I'd share some of my household's holiday traditions.
Tree Night
We skipped the tree business for a couple of years because floor space in Manhattan is precious, and setting up a tree is a pain in the bum.  But a few years ago, we had dinner at a favorite neighborhood spot, and something about the season hit us.  The restaurant was decorated with traditional white lights and garland.  There was talk of an early snow.  We passed a row of Christmas trees outside the Asian deli next door, and I knew I needed the smell of pine again.  We paid our cash, each grabbed one end of the tree, and dragged that bad boy up University Drive to our apartment.  Each year since, we always go to the same restaurant and deli for tree night.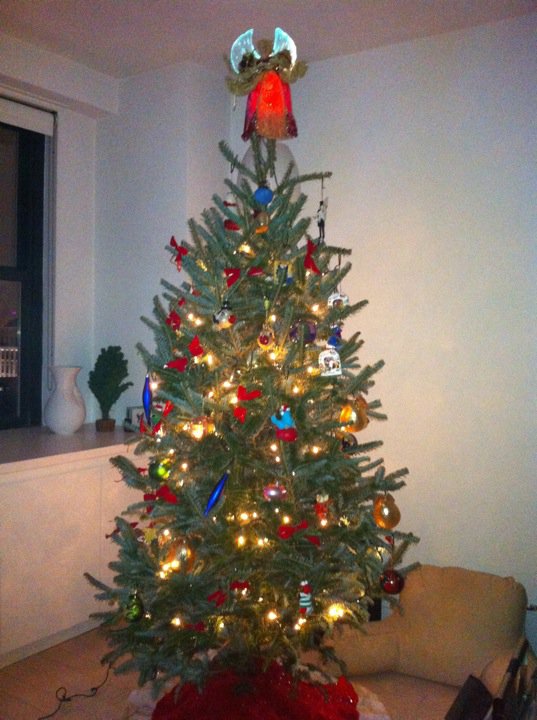 It's not the best looking tree, but it contains memories.  I bought those red velvet bows at a drug store in Portland when I was too poor in college to buy ornaments but desperately wanted a tree.  That angel came from a landscaping store in Buffalo and was too tacky to ignore.  That sad-looking plastic shrub on the cabinet served as our tree for those two years we skipped the real thing, so still gets a place in the apartment next to its larger, more authentic sister.
Turkey Frying
Before I met my husband, I prided myself on my turkey-roasting abilities.  I stuffed the bird.  I basted every 15 minutes.  I monitored the temperature like a worried mother.  But then I met a boy who was fascinated by turkey friers.  I discovered an electric version that could be used indoors or out.  I bought said boy a turkey frier, a turkey, and 13 Manhattan-grocery-store sized jars of peanut oil for Christmas.  Our apartment smelled like french fries for three days.
That boy's now my husband, and we now have fried turkey at Christmas.
The Music
I have bad taste in music. Well, I don't think it's bad, but I've been told by enough people that it's bad that I've come to accept that description.  My bad taste in music is also reflected in my choice of Christmas tunes.  I don't listen to the classics.  They're classics to me, but apparently not to others. The Pretenders.  U2.  Mariah Carey.  Madonna. The Waitresses (even though I spent years thinking this song was by Bananarama.)  Elton John.  Wham.  Harry Connick, Jr. John Cougar.  Mellencamp.  Whatever.  Bing Crosby & David Bowie (though I dare anyone to say this isn't classic, enough so to be spoofed in this version).
And every Christmas season, I listen to the Band Aid effort, "Do They Know It's Christmas," until my husband's ears bleed.
The Movies
Sure, I'm a sucker for TV's the Grinch and Charlie Brown's Christmas, but when it comes to movies, here again, I eschew the classics for more recent and less overtly Christmas-y fare.
Home Alone.
The Ref.
Gremlins.
I watch these movies every single year at least once.
And every year, I have to watch at least this scene from "Scrooge."  Thank you very much, Albert Finney.
Texas Grapefruit from Grandmother
My paternal grandmother sent us all the same gift every year: a box of Texas grapefruit and chunk of Havarti cheese.  She passed away at the age of 101 two autumns ago, but to my surprise, that familiar yellow Pittman & Davis box arrived in the mail the following December and showed up again last week.  My parents have been placing the orders, and my hope is that decades from now my nieces and nephews will be exchanging Texas grapefruits and Havarti for reasons they aren't even sure of.
Duffer
Speaking of those lucky children who bear no responsibilities on Christmas, the Duffer gets showered with treats, toys, and his own stocking, and has only one job during the holiday season: to be cute for the Christmas card photo.  This year, Duffer's photo is with PetCo Santa Claus.  Neither of them looks very happy to be there, but I'm pretty sure Duffer would want you to have this.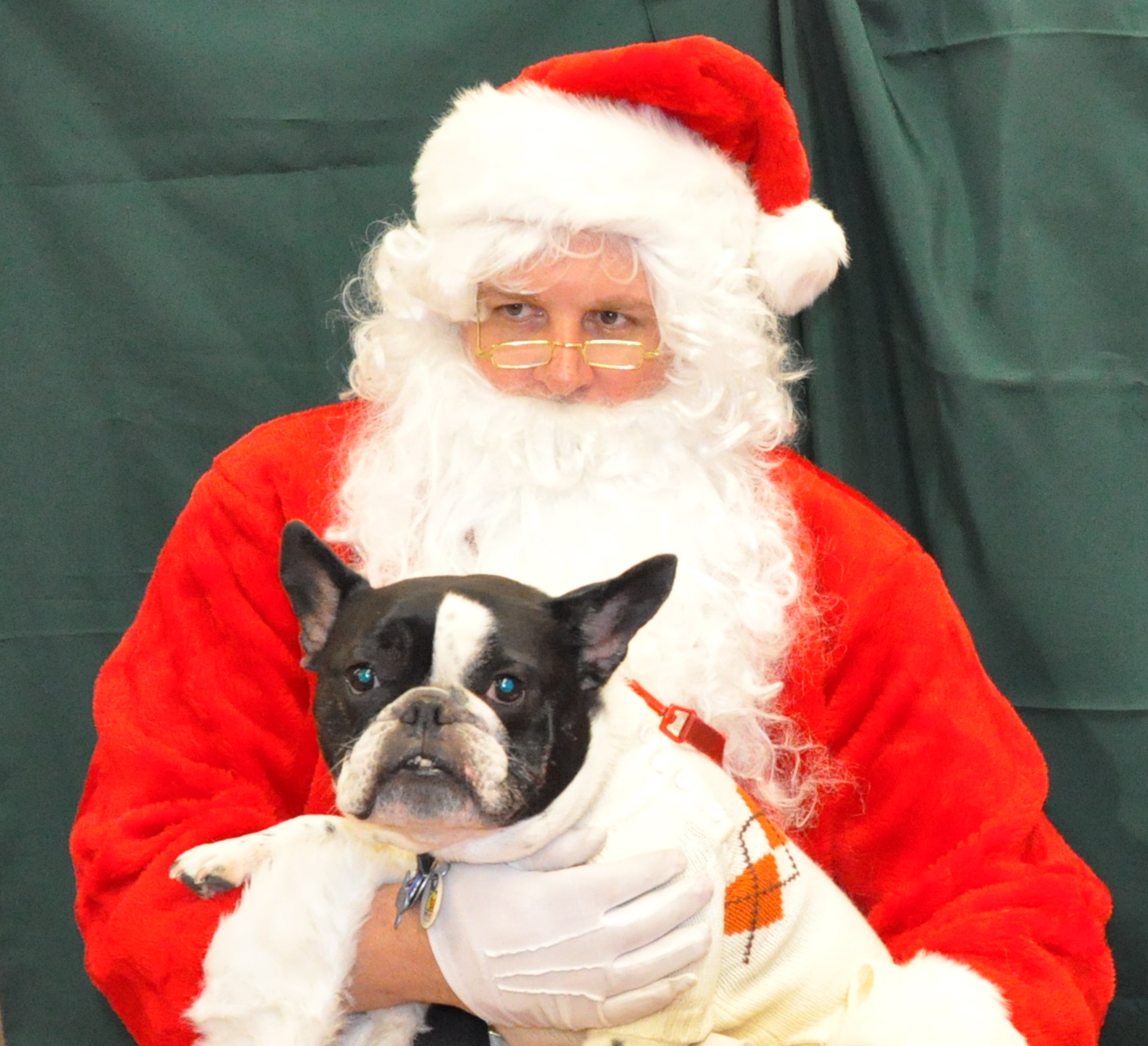 Whatever your holiday traditions, I hope they fill you with happiness.  Thank you, as always, for your continued support of me and my work.  I look forward to sharing more news with you in 2011.
Happy New Year!
If you enjoyed this post, please follow me on Facebook and Twitter.